Archiv für den Monat: Oktober 2017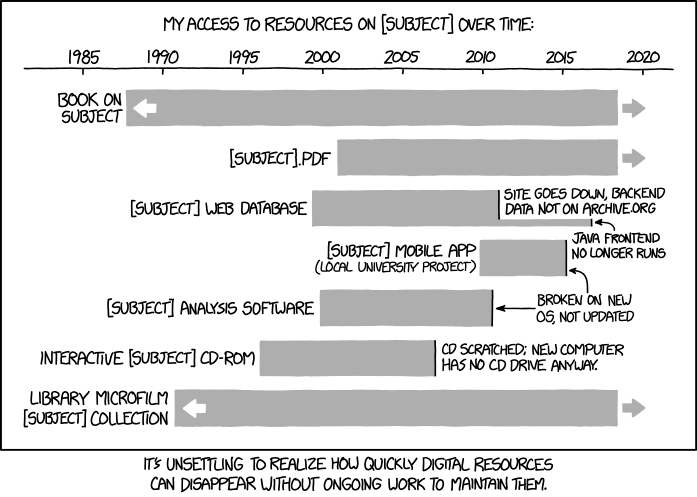 XKCD – A webcomic of romance, sarcasm, math, and language. Danke an Dirk Eller für Hinweis!
Den Besuch der Ausstellung "Fließende Räume" im Generallandesarchiv Karlsruhe  im Rahmen des heiMAP-Projekts haben wir genutzt, um uns die unserem "Hochpunkte"-Projekt zugrunde liegenden Karten und Skizzenbücher im Original anzuschauen. Außerdem prüften wir die möglichen Referenzkarten für unseren "Virtuellen Kartentisch".  Grundlage für ein neues Projekt könnten die Karten des Topographischen Atlas 1:50.000 über das Großherzogtum Baden mit Einzeichnungen geplanter Eisenbahnstrecken darstellen!
Unser herzlicher Dank gilt Herrn Prof. Dr. Wolfgang Zimmermann, der unsere Gruppe durch die faszinierende Ausstellung zum "Donauraum" im GLA führte: Gezeichnete "Wunschräume", dynamische "Mental Maps" und der osmanische "Andere" in faszinierender Zusammenschau mit den historischen, gesellschaftlichen und politischen Rahmenbedingungen von der Frühen Neuzeit bis ins Hier und Jetzt. Die Ausstellung läuft noch bis zum 27.10.2017!
"Fließende Räume. Karten des Donauraums, 1650–1800", Ausstellungskatalog (Verlag Schnell & Steiner) und "Die späten Türkenkriege. Wahrnehmen — Wissen — Erinnern", Aufsatzband (Verlag Schnell & Steiner).